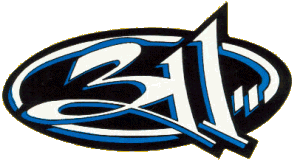 311 is a band that formed in Omaha and began playing in 1990. Their style is a blend of guitar-distortioned hard rock with rap, reggae and ska. Their lyrics are cheery and listening to their music, it's practically impossible to stay put! It's really original music and there are not many bands like this one.

This band made three unreleased records in Omaha (Damnit!, Unity and Hydroponic) that were very succesful locally, and because of this they moved to Los Angeles where they signed up with Capricorn Records (part of Warner Bros.) and released their first big-label record, "Music". Then followed lots of succes and tours, after which came "Grassroots", and then "311" (the one with the blue cover), which gave the band their real fame and propelled them to what they are today. In mid-97, they released their fourth record, "Transistor", which has been their longest and most experimental record.


The name 311 was created when a friend of the band was arrested in Omaha for swimming in a pool naked, and the charge of indecent exposure had a code #311. There are rumors that 311 is used to denominate KKK; these rumors are completely false, and band members have said so several times, saying that they're against all forms of racism or hatred, adn also that their lyrics express joy and unity.

311 is:

Nick Hexum (vocals, guitar)

Chad Sexton (drums, percussion)

Tinothy J. Mahoney (guitar)

P. Nut (bass)

Count SA (vocals, scratches)
---
Records
| | |
| --- | --- |
| Music | |
| Grassroots | |
| 311 | |
| Transistor | |
---
311 Stuff
MIDI:
TABS:
PICTURES:
311 Cartoon (from Rocktoons)