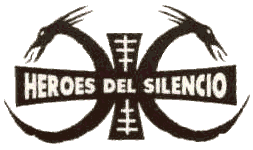 Héroes Del Silencio (Heroes Of Silence) is the most important Spanish rock band of all times. Héroes was born as a band in 1984, but they already played in clubs and local contests, but without much results. When they were discovered, they were a huge revelation. In 1985-87, they began consolidating their style, going for a heavier, more electric rock, and exploring cryptic landscapes, that have become their trademark. Since then, Héroes were really busy with recordings and tours. They have made 3 studio albums and 2 live albums (including the double album "Parasiempre")
Héroes is characterized by their complez and sometimes strange lyrics, which oppose to all apathy, cynism, neglect, indolence, abandonment and scepticism, and also by their strong, electric rock.
Héroes Del Silencio have become the biggest, most popular Spanish rock band that ever lived. Their succes has taken them to tours through all Europe and America. Héroes separated after finishing their "Avalancha" tour and their live record "Parasiempre". This was something they ahad thought of long before their smash hit "Avalancha" album.

Enrique Bunbury a little time ago released his first solo album, "Radical Sonora", in which he presents a more electronic, techno sound, something he had wanted to do with Héroes, and they didn't, which was one of the causes of their separation.

Héroes Del Silencio is (or was):
Enrique Bunbury (vocals)
Juan Valdivia (guitar)
Joaquín Cardiel (bass)
Pedro Andreu (drums)
---
Records
| | |
| --- | --- |
| El Mar No Cesa | |
| Senderos de Traición | |
| Senda '91 | |
| El Espíritu del Vino | |
| Avalancha | |
| Parasiempre | |
---
Héroes Stuff
LYRICS AND CHORDS:
PICTURES: