The Presidents are a US band that is characterizes by their simple rock music made by their strange two-string basitar and three-string guitbass. This music is part alternative, part punk, and is accompanied by funny, simple lyrics that talk about kitties, froggies and peaches. Well, they may not be the greatest musicians in the world but the're pretty darn original and their music is really fun to listen to. Although the whole band hass less strings than a guitar, their music is just great.
They released their first record in '95, and due to their huge succes, they moved to a bigger label, Columbia, and released their second album.


.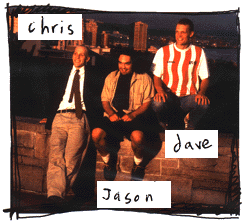 The Presidents of the United States of America are:

Chris Ballew (lead vocals, two-string basitar)

Dave Dederer (three-string guitbass, vocals)

Jason Finn (no-string drums, vocals)
---
Records
The Presidents Of The United States Of America

(1995)

II

(1996)
---
Presidents Stuff


MIDI:
TABS:
PHOTOS:
Stay tuned for the Presidents Of The United States Of America Desktop Theme by El Fantasma & Rodimus! Coming Soon!