Soda Stereo is the most important and best-known argentinan rock band in the world. Their style is a kind of not too hard but well-defined rock, with a wide selection of instruments and accompanied by really good lyrics interpreted by the unmistakable voice of Gustavo Cerati. Their style has evolved a lot since their rock-pop-almost-new-wave from the beginning of the band back in 1983, when Gustavo Cerato and Zeta Bosio joined with Charly Alberti.

This argentinian trio has been greatly popular and has played all over Latin America, United States and Europe. They recorded 9 albums from 1984, when they released their self-titled album, to 1996, when they produced their last record that was "Comfort y Música Para Volar" (Comfort And Music For Flying), recorded live for MTV Unlugged and that also includes a CD-ROM track

Soda made a last goodbye tour through Latin America, after which the band disintegrated (dec.97).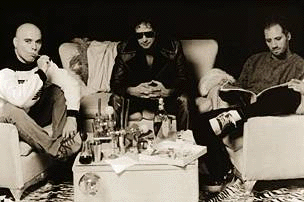 Gustavo Cerati (vocals, guitar)

Charly Alberti (bass)

Zeta Bosio (drums)
---
Records
Soda Stereo

(1982)

Nada Personal

(1984)

Signos

(198?)

Canción Animal

(1990)

Doble Vida

(199?)

Dynamo

(199?)

Sueño Stereo

(1995)

Comfort y Música Para Volar

(1996)
---
Soda Stuff

MIDI:



LYRICS AND CHORDS: